Your Success is our Success
The Sofintsys executive team understands that in order for you to succeed, we need to deliver on our promises.
Our role is to help you deliver the optimal product, that your customer or market loves, that you can build at an affordable cost, that is delivered on time and has the appropriate safety, security, reliability and other attributes that your market demands... and in the socially connected world we live in, flaws are exposed and publicised rapidly!
We recognise it is difficult (and as complexity increases, probably impossible) to deliver flawless product. As the context of the product use inevitably changes over life it may be impossible to economically and robustly test all but the simplest product in all likely future circumstances. But we strive to ensure that in our systems, that any residual flaws do not manifest themselves as errors, or that sufficient system redundancy exists to preclude an error from causing any significant failure or disturbance to your customer.
Sofintsys assures you that it will use its best endeavours to help you satisfy your customers and in so doing ensure that we satisfy you.
Executive Team
Chief Executive - Prof Stuart Jobbins MSc CEng FIET SMIEEE MINCOSE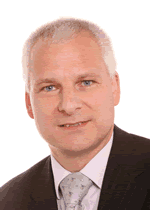 Stuart has over 35 years professional experience in software system development with an academic history and continuous professional career in electronics programme, project, business and technical management in embedded systems. His wide career has seen him cover control systems in Industrial, Defence, Communications, Automotive, Aerospace, Marine, Nuclear and Health Science backgrounds. He has a broad knowledge base of Electronic Systems, both Hardware and Software and long experience in systems engineering and software development both hands-on, in all aspects, and as a manager.
Typically he provides direction and influences product system and software strategy, coaches and improves education and dissemination of information amongst the system and software competence, leads strategic research into software and systems development and its associated technology development, with an ever-present objective to improve cost and quality, across all segments of the diverse businesses he works in, but centred on their embedded real-time control and supporting application software products.
Stuart is a Fellow of the IET, a Chartered Engineer and Professional Registration Advisor; a Senior Member of the IEEE; a Member of the International Council on Systems Engineering and also the Director for Outreach for INCOSE; a Visiting Professor in Computer Science and Embedded Systems and sits on a number of National and International Academic and Industrial Advisory Boards. He is the Chairman of NMI's Embedded Systems Group for the UK trade body Techworks (formerly NMI), and has previously been a Technical Consultant to UltraSoC Technologies, a Cambridge, UK-based start-up and an independent member of the Technical Assurance Panel for Monitor (now NHS Improvement), the sector regulator for Health Services in England.
He is passionate about engineering, especially systems with extensive embedded systems and software engineering, its professional development and its education from primary and secondary teaching (in his role as a Science, Technology, Engineering and Mathematics (STEM) Ambassador) through to doctoral research (where he sits on Advisory Boards) and is used to helping set applied research agendas from both Industrial and Academic perspectives. He was a member of ENCORE: the Engineering Complexity Resilience Network+ (addressing the Grand Challenges of Risk and Resilience in Complex Engineered and Engineering Systems).
Stuart sees the challenges facing future software engineering professionals as increasing scale and complexity, geographically dispersed development, coupled with an increased public dependence on software intensive systems to deliver improved safety and security; future engineering being increasingly about partial system replacement in larger, more interconnected, adaptive, systems of systems, of potentially mixed integrity, whose design detail may be unavailable, rather than the more traditional teaching of "clean-sheet" new product development.
Communication
Do you speak software?
Can you understand people who do?
Don't worry! One of our strengths is bridging the communication gap.
The Cost of Software Systems
Development costs or Through-life costs?
How do I chose the right cost model for my business?
Is my brand reflected in my cost model?
Does my product include warranty, or brand reputation risk?
Errors and Failures
Where do 'residual errors' come from?
When will errors manifest as 'flaws'?
How do I stop 'flaws' becoming 'failures'?